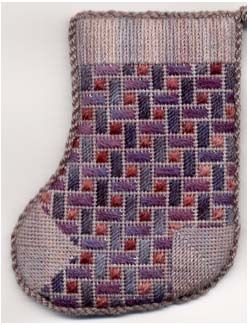 Honor our Pilgrim forefathers.

© Finger Step Designs

On 18-mesh white canvas using Gumnut Yarns Blossoms and Gemstones hand-dyed wools in gray-blue, purple, gray, and brown, this mini-stocking is stitched in Kalem, Encroaching Gobelin, Tent, Reverse Diagonal, Diagonal, and Rhodes stitches.

Finished design is 3.5" wide x 4.5" high. May be completed as an ornament or open-topped mini-stocking.

Canvas and threads billed separately.

Price is for the charted design only.

Change canvas and thread selections as needed for an additional charge.



Alex-Paras NeedleArts © 2008-2023 Thistle Needleworks, Inc. All rights reserved.